Kings of Leon • Caribou • Tuys • The Mysterines • Mathilda • Francis of Delirium • Klein • Crack Cloud • Xique-Xique • Claire Parsons • Tukan • MNNQNS • UNDER THE REEFS ORCHESTRA • Spoon and the Forkestra • Indigo Mango • Sheebaba •Argon
• Règlement de Comptes •
Aka Ghost & Paulinska • Office Of Weird • Compagnie Dynamogène • They Call Us Bewitched • Dj Frietmachine
Alice Merton • JOSH. • Remo Cavallini • Siegfried & Joy •
Elements - The Show •

Culture the Kid • Chasey Negro • Bobby Bieles Live Band • DOW SUPERSHOW

•

Itinerantes Dance Orquestra • Meta Frequencies Soundsystem feat. Eva Lazarus, Dusty Watta, Don Gio, Ionn Conor • Tambores Itinerantes • CHARLOTTE BRIDGE • LES ONS • Tous sur Scène avec Daniel Moutinho

•

Zaltimband • Ecole de Musique Régionale Dudelange • Compagnie Dynamogène • They Call Us Bewitched • Dj Frietmachine
--- ---
SCHEDULE
SATURDAY, 11th JUNE - DOORS 14:00 SCHEDULE
SUNDAY, 12th JUNE - DOORS 14:00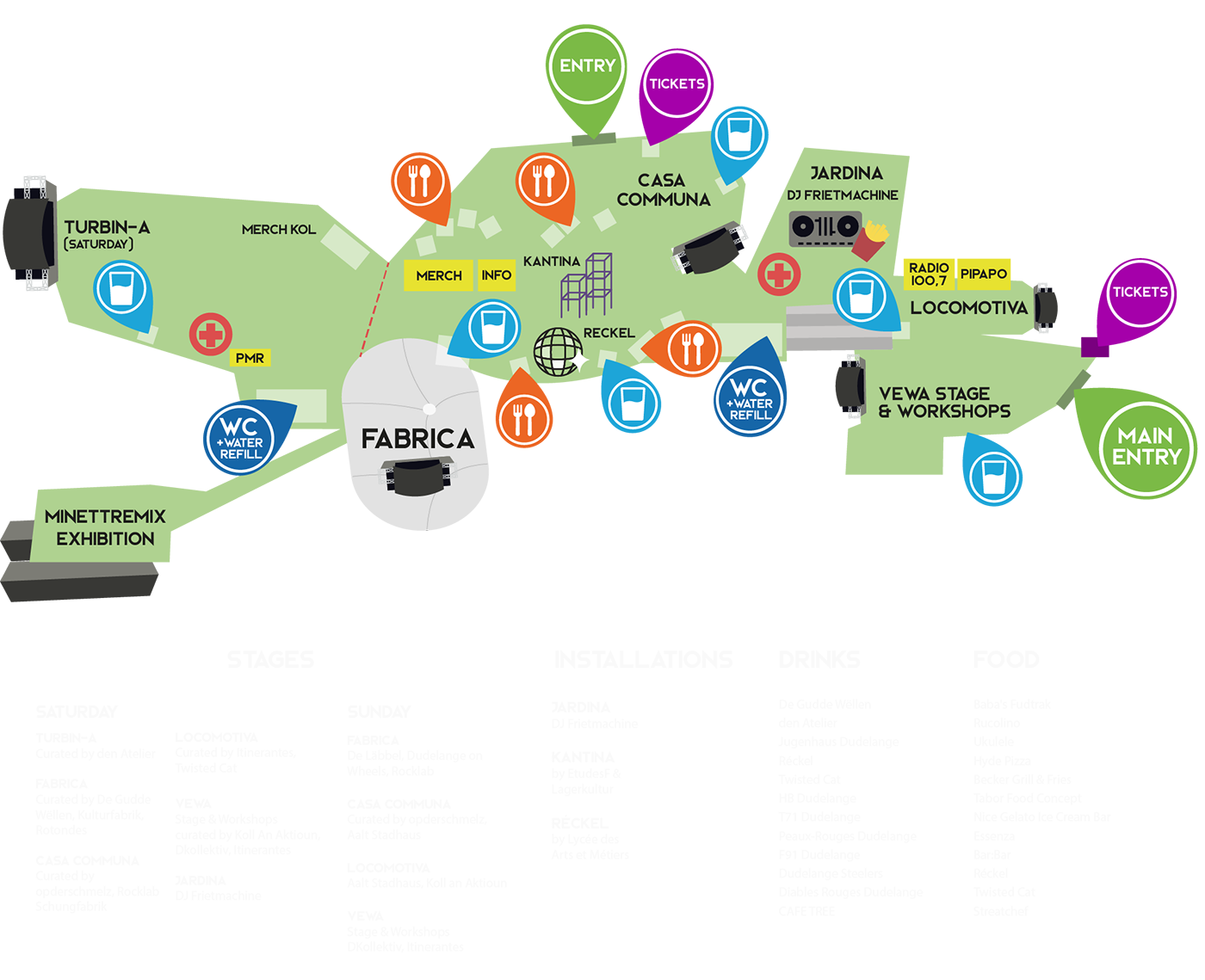 Where is USINA 22?
The festival site USINA22 is located at NeiSchmelz, behind the CCRD opderschmelz.
Venue address:
Route de Thionville
L-3475 Dudelange
The main entrance can be reached via the CCRD opderschmelz/ CNA,1 rue du Centenaire, the side entrance is facing the Route de Thionville, vis-à-vis of the Gare "Dudelange Gare-Usines".
Arrival & Departure
Please note that there will be no parking on site. Surrounding streets will be closed for public traffic. You have 2 options to get to USINA 22:
1. Public Transport:
We highly recommend using public transport as parking is limited in Dudelange and the surrounding communities. Public transport in Luxembourg is free throughout the whole country and for all different modes of transport such as busses, trams and trains. The best way to reach Dudelange by public transport is by train & bus.
Plan your trip with the Mobilitéits Zentral and find the fastest connections to the festival site.
The bus stop Dudelange Centre Culturel / CNA is in walking distance from the main entrance (500m). If you are planning to come by train, the train stop Dudelange Gare-Usines is in walking distance from the side entrance (300m).
Please find running times for buses & trains on both festival days here.
Also, the City of Dudelange has put in place a free shuttle service for its residents.
Timings and bus stops can be found here.
2. By bike:
The CCRD opderschmelz makes its open space (parvis) between the cultural center and the water tower available as a bicycle parking space. Helmets may not be brought onto the festival site, but there is a cloakroom directly at Lost & Found next to the main entrance.
3. By car:
Should something hold you back from using public transport, there will be of course some options to arrive by car. The City of Dudelange made agreements for you to use the following car parks to park your car. You can reach them via A13 Exit Dudelange-Burange.
Cactus Bettembourg:
320 ZAE Wolser A
L-3225 Bettembourg
Z.I Wolser
300 ZAE Wolser B
L-3225 Bettembourg
LNS (Laboratoire National de Santé)
1, Rue Louis Rech
L-3555 Dudelange
Shuttle buses run on the hour and half the hour and will take you to the festival site and back.
Saturday Schedule
Sunday schedule
In addition to that, the Parking at Gare Volmerange-les-Mines will be available for you to park your car. From there you can take the train to Dudelange Gare-Usines.
Timings
Doors open at 2pm on both Saturday and Sunday. Come early and discover fantastic acts and installations! The schedule for both festival days can be found at usina.lu
Getting around
There is a beautiful festival map available at www.usina.lu showing all stages and points of interest.

Children
Children below 14 years of age must be accompanied by an adult.
Children under 12 get free admission but must be accompanied by an adult.
Food & Drinks
You will conveniently find a hand-picked selection of the best street food Luxembourg has to offer on site. Drinks will be catered by bars & local associations.
PMR
USINA 22 is mostly barrier-free and has good wheelchair access but please note that there are no dedicated concrete paths or streets. At the smaller stages, our safety personnel will help find a good spot for you to follow the show. For the A- Stage on Saturday, and both days at FABRICA, we have foreseen a PMR grandstand, which allows you to follow the headline show from a safe space and with a good view. For reservations please contact info@atelier.lu before commencing travel. There is also a dedicated parking area behind the CCRD opderschmelz, 1a rue du Centenaire. Please bring all relevant papers in order to get access.
Animals
In everybody's interest, pets are not allowed on the festival site.

Cameras
Without prior written authorization by record label, promoter or artist management, professional cameras are strictly prohibited on site. Video or audio recording devices are not allowed either and can be seized by artist tour- management or promoter. Please to not bring selfie-sticks.
Other prohibited items
umbrellas – as these limit the view of audience
all types of drinks and food (except for 0.5L water bottles, made out of plastic that can be refilled on site)
all weapons and means of self-protection, smoke candles, or any products that simulate explosions and/or pyrotechnics, flammable, poisonous, toxic, and highly-odorous substances;
alcohol, psychotropic and narcotic substances
large objects or bags - do not carry huge bags or unnecessary items that may slow down the screening at the gate
bicycles, roller skates and skateboards, motorcycle helmets, any kind of chairs incl. camping stools
the Organizer can refuse entrance to the event venue, if the Organizer believes that the Visitor is under the excessive influence of alcohol, or could reach an excessive level of intoxication
There will not be an opportunity to leave forbidden items or any other kind of items for keeping with the concert personnel or security personnel.
Last but not least…
You don't need a ticket for Sunday, 12th June, as it will be admission-free. So we really hope to see you on both days.
A COOPERATION WITH THE FOLLOWING LUXEMBOURGISH MAJOR CULTURAL PLAYERS
---
OPDERSCHMELZ • Den Atelier • DE GUDDE WËLLEN • Rocklab • ROTONDES • KULTURFABRIK • KOLL AN AKTIOUN • Schungfabrik •

Réckel by Lycée des Arts et Metiers

• D-KOLLEKTIV • Dudelange On WHEELS • DE LÄBBEL • AALT STADHAUS • ITINERANTES
---
---